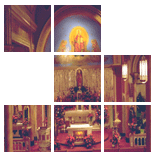 Enter Email:




Summary: In John 6, Jesus offers a portrait of abundance. As the Good Shepherd who gives his life for his flock, Jesus offers a bountiful feast for all. By doing so, he demonstrates that he is the true bread of life who graciously gives us genuine abundance.

Summary: Living a life of faith, we are challenged to use our resources faithfully to meet life's challenges -- even if the challenges are huge and the resources small.

Summary: The story of the loaves and the fish goes beyond the power Jesus demonstrated to the compassion he taught. It holds both a lesson and hope as we struggle with the fallout of a recession.

Summary: Jesus miraculously feeds a crowd of over 5,000 people with five loaves and two fishes. He resists the crowd's subsequent desire to anoint him as their king. This miracle points to the deeper reality that Jesus wants to offer true life to those who trust in him.

Summary: Since we often don't think about God as the Creator who provides us with food and other needs, we fail to trust in God for our lives. The feeding of the multitude is a dramatic sign of the Creator's presence and power. Jesus does in an attention-getting way what the Creator is doing all the time to supply us with food. And the thanks he offers shows us the proper attitude we should have in response to God's work.

Summary: The feeding of the 5,000 is a miraculous story of people getting fed. But why does Jesus ensure that the fragments are saved? Perhaps this is a message not just about miraculous feeding, but also about abundance and hope.

Summary: Our tradition refers to Jesus as "king" ad infinitum, and that is fine and good and certainly not ad nauseam — but this passage offers us some surprising insights about the kind of king he might be. What kind of king is he — and what kind of subjects are we to be?

There are 7 sermons in your results.