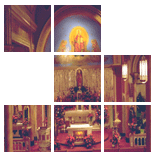 Enter Email:




Summary:
No one is exempt from temptation, not even Jesus. Jesus was tempted but did not sin. Instead, he showed us by example how to live a life of faithfulness.

Summary: Temptations are all around us and no one is immune to them. Even Jesus was tempted. God is with us amid temptations, even when we fall to them. We can learn from them and grow.

Summary: Jesus faces physical, spiritual and political temptations in the wilderness, and he does not compromise. Instead, he shows us resistance that is substantial, solid and grounded in scripture.

Summary: Fasting, like the other spiritual disciplines, has spiritual value only if we do it for the Lord.

Summary: Temptation does not come from God, but there are times when God's Spirit will lead us to the place where temptation happens, to the one in whose hands temptation has been placed. Our temptation, usually, is not to what is evil, but to something that is in and of itself good. Temptation comes to us in four guises.

Summary: In the wilderness, Jesus is tested around three issues: self-interest, trust and loyalty. This time of spiritual preparation was the launching pad for Jesus' life and ministry. Current followers of Jesus need to settle these three issues in their own lives in order to fulfill God's mission today.

Summary: Lent has its origins in Jesus' wilderness experience. Human nature and our contemporary culture encourage us to make Lent easy and manageable. Our call, on this first Sunday of Lent, is to see Lent as a wilderness where we can meet God in new, profound ways. Only then can we hope that angels will minister to us, as they did to Jesus.

Summary:
General George S. Patton is famous, among other things, for his view on leadership. He preferred to lead, not follow, and seldom if ever needed to get out of the way. We follow Jesus, not Patton. Like the general, Jesus, too, had strong ideas about leadership. But unlike the general, Jesus ultimately got out of the way.

Summary: The immediate decision Peter and his brother Andrew made to follow Jesus sets a pattern that should encourage us to renew our own commitment daily to be Christ's followers so we can help transform the world to look more like it will when God's reign comes in full flower.

Summary: There's a saying in the National Football League — "next man up." It means you should always be ready to move up and replace someone injured on the field. Herod's arrest of John the Baptist does not extinguish the work of God. Jesus is the next one up and gets to work. And though he is irreplaceable, Jesus calls disciples to be the next ones up. Are you ready to be the next one up for whatever your congregation needs?

Summary: God chooses to work through a body of people, a company of disciples. Even though each of us has come to Christ by his or her own independent choice, and even though each of us must always do private business with God, the church isn't a collection of rugged individualists. It's a company. It is God's own method, and it only works if we are willing to take our place in the body of Christ.

Summary: In a world that often does not take the church seriously, God calls us to be the church. In responding to that call, we enable God to shine his light through us into the darkness of the world. Our response enables us to grow into spiritual maturity.

Summary: Jesus uses words and deeds to present to us his positive message about God's kingdom. He is intent on convincing us that the message about God's coming kingdom is the Good News.

Summary: Repentance is the foundation of a healthy relationship with God and others. When Jesus preached repentance, he wanted his hearers to change their minds about their sin, their mistakes, their regrets and even the direction of their lives. He wants us to do the same.

There are 14 sermons in your results.