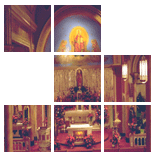 Enter Email:




Summary: Sometimes keeping our baptism vows is easy, but at other times, it is very difficult -- enough so that we can understand why people would want to avoid being baptized. But we who are baptized claim membership in the family of God, and need to live so as to reflect well on our heavenly Father.

Summary: "Make me to know your ways, O LORD; teach me your paths" is a prayer every Christian should pray frequently. It asks God not for information, but that we be made teachable, that we learn to internalize his ways without having to learn things the hard, painful or costly way.

Summary: When we are on the wrong path, we need someone to tell us so — maybe even Jesus!

Summary: In the story of Noah and the ark, God makes a promise to all who live on the earth, regardless of who we are. God makes the covenant with "all living things." Such a promise shows us a God who sees beyond tribes, nations and even religions. His rainbow is offered to all. While this is an awesome truth, it is also one that calls for a response from us.

Summary: God's love is present even in the wilderness, which can give us hope to carry on.

Summary: The crucified Jesus has been to hell and back - which tells us he's the best physician to cure our souls.

Summary: In Mark 1:14-15, Jesus gives us the essence of his good news.

There are 7 sermons in your results.