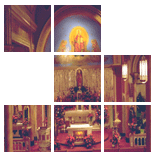 Enter Email:




Summary:
In the season of Lent, our merciful Lord invites us to return to him so that he can help us. God desires that we come back to life, back to loving and back to our best selves in the community of faith.

Summary: The prophet Joel offers guidance that fits Ash Wednesday perfectly: Return, learn, gather and pray.

Summary: A plague of locusts is seen by the prophet Joel as a sign of "the day of the LORD," a day that can be fearful for sinners. But the prophet, paradoxically, calls people "even now" to "return" to the Lord, who is merciful. The story of sinful humanity is one of people moving away from God, and of God continually calling people to return. And in Jesus, God acts decisively to bring us back.

Summary: These words, given through an ancient prophet, hit us as hard now as they hit their original audience. This becomes especially obvious when we consider that this witness speaks to the entire church, and not just to individuals. It is the church that is called to repent and return, in ways that have social and political implications as important now as ever.

Summary: Our assembling this day gives us an opportunity to consider and repent of our sins — and be forgiven.

Summary: If you find yourself driving in the wrong direction, you've got to turn around to get where you want to be. That's also true spiritually, so the prophet Joel calls us at the beginning of Lent to "return," to come back to God. We are led on that journey back to God by Jesus. Receiving him in the Word, prayer, alms and fasting are parts of Lent that help us to return and to stay close to God.

Summary: The genius of Ash Wednesday is that we can't make something grand and hopeful unless we start with some ashes. We have to work with some ashes -- all that has gone before us in life. But nature uses ashes to restore the soil. Repentance is the spiritual quality that ashes represent. When we confess to God that we are not all we ought to be, we are laying the bed of ashes in which our souls can grow.

Summary: The prophet Joel calls the people to return to the Lord. The destruction is ending. Blessing is coming through the new life that is being offered. The blessing is magnified when we offer our hearts back to God. During the season of Lent, we do just this: We return to God, fully aware that the destruction has passed and blessing has arrived.

There are 8 sermons in your results.