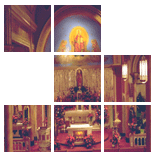 Enter Email:




Summary: While God is clearly able to do anything, he is not always willing to do everything. When we pray, "Lord, thy will be done," we concede that, perhaps, God will not act in ways that we think best. There is never any legitimate excuse for disobedience, even experiencing the miraculous. When the Lord's directions are clear, we must not deviate from them, no matter how attractive the detour.

Summary: Just as Jesus healed the leper of his illness and his isolation, so the Risen Christ heals us of our alienation from God and one another. Christ then calls us to love others in the same daring way. The risen Christ will do what it takes to reach us.

Summary: Righteous indignation has an important role in the Christian life. Its energy can melt the ice of indifference. But once we have acknowledged our anger, would should let compassion, not wrath, win the day.

Summary: This passage tells a story of God's wrath that turns the usual stories of God's wrath upside down. The wrath of Jesus, and the wrath of God, are aimed at those who would declare that sickness and disease are signs of God's wrath.

There are 4 sermons in your results.