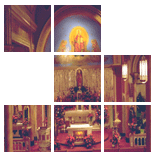 Enter Email:



Summary: This text consists of two hymns of praise to the Lamb, Christ and God by the heavenly hosts, but no reason for these praises is given. If we put these hymns in the context of the whole of Revelation, we see that the Lamb will open the scroll that reveals God's "game plan" for the world, a plan that ends with the defeat of evil and the heavenly city coming down to earth.

Summary: Reading a difficult text like Revelation provides an antidote to the consumeristic lifestyle that we lead and allows us to know — and trust — that God's love is real.

There are 2 sermons in your results.