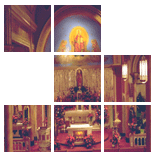 Enter Email:




Summary: Perhaps Zacchaeus wanted a controlled experience with Jesus, safe in a tree, where he could encounter Jesus, but not become vulnerable. Perhaps we come to church wanting a safe experience with God, comfort without challenge. Our encounter with the risen Christ is beyond our control, and may transform us in ways we didn't expect.

Summary: Those who have been rejected by society are often the most open to the reconciling power of the Gospel. We are to follow Jesus' example of offering an open hand to the outcast, because, when all is said and done, each one of us started as an outcast in the eyes of God.

Summary: After Jesus invited himself to Zacchaeus' house, Zacchaeus did not resolve to change; he was actually changed by Jesus. Jesus can change us, too.

Summary: Zacchaeus, though small of stature, became big in spirit when he met Christ. And the Good News is that when Christ is allowed to rule in our hearts, we can become big spirited as well.

Summary: Our experience with paying taxes helps us to understand why, in a much different political situation, Zacchaeus was resented by the people of Jericho. The tax collector must have thought that he could get some help from Jesus. But he got more than help: His life was renewed. In the same way, we are encouraged to be in a place where the transforming power of Christ will encounter us

Summary: On his way to Jerusalem, where the cross waited for him, Jesus passed through Jericho and forever changed Zacchaeus and the town he lived in. What Jesus did for Zacchaeus, he can do for us.

Summary: Sometimes the most important way we can show support for other people is by showing up.

Summary:
When a Roman tax collector goes looking for Jesus, Jesus already was looking for him. And Jesus had terrific news to give him. In our day, we must find ways to look for that same Savior, who already is looking for us. Finding him will be our greatest treasure.

There are 8 sermons in your results.