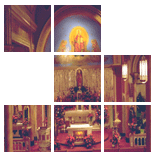 Enter Email:




Summary: Rather than teaching us that we can buy our way into heaven, that we can keep our money as long as we don't love it or offering a message about grace, Jesus calls us to take a risk to build up treasure in heaven.

Summary: The rich young ruler came to Jesus asking what he needed to do. Jesus showed him that it's not what we do but rather being a follower that leads to eternal life.

Summary: The fact that God sees and knows everything about us can be a source of shame and fear. But God intends his omniscience to be a channel of his love, forgiveness and grace.

Summary: Following Jesus wholeheartedly means making our whole life of one piece. That's not easy to do, for our tendency is to keep things compartmentalized and treat our faith as something separate from other aspects of our lives. Yet Jesus wants access to every part of our lives.

Summary: If you want to experience eternal life, you must come to Jesus and offer yourself without conditions to his mission. God is looking for those who are desperate to receive that which God alone can provide.

Summary: Fifty years after the story about the rich man in our text, he reflects on that incident and his life. He explains to himself that the decision he made then was the sensible and responsible one. He has always lived that way — not taking serious risks. But he still keeps thinking about his meeting with Jesus.

Summary: Eternal life is not a reward for following the commandments — or even for following Jesus! We are on the path to eternal life only when the life offered by God, through Jesus, becomes our one and only priority. We need to discover and relinquish whatever in our lives has a greater claim upon us than eternal life with God.

There are 7 sermons in your results.