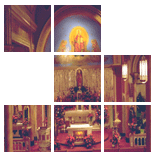 Enter Email:




Summary: The story of Mary and Martha is not the story of Mary versus Martha. This story shows us the different but complementary forms that discipleship can take.

Summary: Life demands that we be occupied with the things of daily existence, but we can lose ourselves in the busyness. The Christian Sabbath — Sunday — and the extension of the Sabbath spirit into our weekdays provide pull-back opportunities for rest, reflection and spiritual renewal.

Summary: Jesus' treatment of women was a break with Jewish tradition of that day and an example of the radical power of the Gospel to set us free from tradition.

Summary: The story of Martha and Mary illustrates the importance of achieving the proper balance between loving God and loving neighbor. God's mission is advanced by embodying both in unison.

Summary: Jesus points us away from our worry and stress and toward a single-minded focus on the deepest hope that is in us.

Summary: We may be well-organized, detail-oriented people, but that shouldn't get in the way when those we meet need simply our silent presence, our companionship, our prayers. We must pay close attention to what's right before us so we can respond in a Christ-like way.

Summary:
Sandwiched between the parable of the Good Samaritan and Jesus' teachings about prayer, the narrative about Mary listening while Martha works teaches us that study prepares us for our devotional life and for serving our neighbors. All of these things form a part of our struggle against evil.

There are 7 sermons in your results.