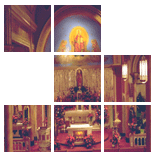 Enter Email:




Summary: God's actions in our lives are ambiguous, open to interpretation. We choose to have faith, while understanding that we should have a healthy skepticism. Nothing can completely remove our doubt, so we look for the ways God is working in our lives, building our faith on discerning God's presence in the ordinary.

Summary: When Jesus returned to his hometown as an authoritative teacher, his old community dismissed him with contempt. He did the best he could while he was there, and then moved on. We are to follow Jesus' example, and to keep on faithfully exercising our spiritual gifts, regardless of the response we get from others.

Summary: Explanations of our world as "only" this or that can seem to take the beauty and mystery, and even the presence of God, out of our lives. That's the same attitude that the people of Nazareth had — Jesus was "only" a carpenter. Belief that God is uniquely present in Jesus and that God is active in hidden ways in the world, as the Bible bears witness, enables us to see that everything hangs together. The God who is present as the carpenter is the God who is always present and active in our world.

Summary: Few Christians have suffered the troubles and suffering that St. Paul had to endure. But he discovered that God's grace would sustain him. He found great strength through a deep and sincere prayer life. He was in such union with Christ that even in his times of great woe, he found strength. What was true for Paul can be true for us as well

Summary: There is no easy fix when we are deeply hurt by people we thought we knew well. But Jesus, having been rejected by the hometown folks, responds by doing the work of the kingdom. When we try to do something positive after a painful situation, we are following in his footsteps.

Summary: Jesus is unable to perform miracles in Nazareth because of his neighbors' doubts. How do our actions and attitudes block God's love and presence?

Summary: Christians face rejection when they work for justice on behalf of the powerless. But Jesus found, in his hometown, that his own words and work caused offense.

There are 7 sermons in your results.