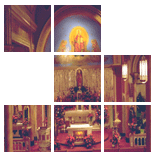 Enter Email:




Summary: God summoned Abram, with his wife Sarai, to leave family and home behind so that they might be parents of a great nation and a blessing to the entire world. However, even as they left their home, they also left behind those who must have grieved their leaving and marked their separation with tears. Pursuing the vocations that God has laid out before us comes with sacrifice, even as it comes with countless, unseen, unnoticed blessings.

Summary: The events of the Transfiguration serve as validation of Jesus' message as well as affirming his authority to interpret God's will for our lives.

Summary: God's call can come to us at any age, in any circumstances. When it does come, there's nothing to do but follow.

Summary: The Transfiguration revealed Jesus as he truly is. Thanks to the touch of the Master's hand, sometimes we are revealed as who we ought to be. Let us work to shine the light of Christ, that we may all be revealed as God intends us to be.

Summary: Throughout the first 11 chapters of Genesis, humanity seems to divert God's story again and again, finally reaching what seems a dead end with the story of Terah's family. One son is dead. One son, Abram, and his wife, Sarai, have no children. The journey undertaken by the family ends short of Canaan. Dead end. But God is not deterred. God chooses and calls the Dead-End family, promising blessings for us all.

There are 5 sermons in your results.