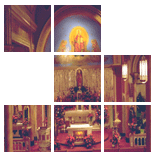 Enter Email:




Summary: We begin the Lenten season by taking a fresh look at the wonderful, eternal mystery story, the story of sin and salvation. There's no story that quite compares with it.

Summary: Lent has its origins in Jesus' wilderness experience. Human nature and our contemporary culture encourage us to make Lent easy and manageable. Our call, on this first Sunday of Lent, is to see Lent as a wilderness where we can meet God in new, profound ways. Only then can we hope that angels will minister to us, as they did to Jesus.

Summary: In the wilderness, Jesus is tested around three issues: self-interest, trust and loyalty. This time of spiritual preparation was the launching pad for Jesus' life and ministry. Current followers of Jesus need to settle these three issues in their own lives in order to fulfill God's mission today.

Summary: Temptation does not come from God, but there are times when God's Spirit will lead us to the place where temptation happens, to the one in whose hands temptation has been placed. Our temptation, usually, is not to what is evil, but to something that is in and of itself good. Temptation comes to us in four guises.

Summary: Fasting, like the other spiritual disciplines, has spiritual value only if we do it for the Lord.

Summary: Jesus faces physical, spiritual and political temptations in the wilderness, and he does not compromise. Instead, he shows us resistance that is substantial, solid and grounded in scripture.

Summary: Temptations are all around us and no one is immune to them. Even Jesus was tempted. God is with us amid temptations, even when we fall to them. We can learn from them and grow.

Summary:
No one is exempt from temptation, not even Jesus. Jesus was tempted but did not sin. Instead, he showed us by example how to live a life of faithfulness.

There are 8 sermons in your results.