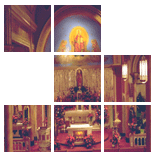 Enter Email:



Summary: Depression, while serious, is not to be feared. By God's grace and with the help of modern medicine, it can be healed.

Summary: Today's story of God and Abram suggests that God acts like the tooth fairy in giving a gift while the recipient is sound asleep. That's a sign that God's saving work is entirely by grace. Abram is counted as righteous because he trusts God's promise that he will have many descendants. Finally, in the biblical story, God's promises will be fulfilled in the descendant of Abram named Jesus, and those who trust God's promise in him are accounted righteous.

There are 2 sermons in your results.