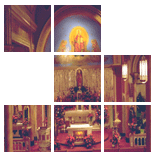 Enter Email:




Summary: The word translated as "heart" in the New Testament does not refer only to feelings but to knowledge. What we feel is true in the message of Jesus is, in fact, rock-bottom truth. Let not your hearts be troubled, therefore. Jesus, who is the way, the truth and the life, leads us along the sure path to witness truthfully and live abundantly, now and forever.

Summary: Built on the cornerstone of Christ, we are called be living stones in his church, and also stumbling blocks to that which is wrong in society.

Summary: In the face of death, Christians know that nothing, not even death, can separate them from the love of God. The old church cemeteries are visual reminders of that truth.

Summary: Following Jesus means we have a direction to go, a path to follow that helps us encounter the mystery we call God, and a route that leads us to a specific destination, eternal life.

Summary: We live in this temporary room that we call our body. Jesus has prepared a permanent place for us in his Father's house. Throughout our life, Jesus is preparing us for that move. Through faith we believe and trust Jesus when he tells us that he is the way to eternal life. Still, some have not yet made reservations for a room.

Summary: Jesus promises that there are many dwelling places "in [the] Father's house." Sometimes we think of God's house as a tiny one, with room for only a chosen few. God desires to expand our understanding and answer the call to spread the good news so that everyone can find their place in the kingdom of God. Along the way, we grow as disciples, and our own "house" expands too.

Summary: Our confession of Jesus as God's Son provides the firm foundation for our faith.

Summary:
These words, from Jesus to his closest followers in his final days on earth, are words of assurance for any who respond to his life in the world. They are not words of condemnation, meant to divide us into those who are "in" and those who are "out."

There are 8 sermons in your results.