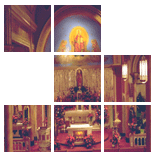 Enter Email:




Summary: There's nothing wrong with the things Jesus seems to condemn in this Ash Wednesday passage. Certainly it is good to give alms, to pray, to fast, to worship in public with God's people. But now, during Lent, we must look within our hearts, not just at what we do, but at our motivations.

Summary: Lent ought to be a time for us to reappraise our spiritual life. What shall we do to enhance our walk and talk with Christ? Pray, of course. But how? Alone and going deep in the Spirit. Give and serve others, of course. But how? Without ostentation, without expectation of being honored or even recognized. Being primarily secret servants who work for God's kingdom. Fasting, too, is relevant for growing strong spiritually.

Summary: The prophet Joel calls the people to return to the Lord. The destruction is ending. Blessing is coming through the new life that is being offered. The blessing is magnified when we offer our hearts back to God. During the season of Lent, we do just this: We return to God, fully aware that the destruction has passed and blessing has arrived.

Summary: Ash Wednesday is a time of reflection and introspection. Our text forces us to look at the heart of our worship and Christian life to see if we have given God control of our lives.

Summary: Professional athletes forget that they are playing for the fans. Christians forget that they are living for God. Jesus instructed his followers not to make a show of their discipleship, but rather to pray, give and help in secret. We have to be reminded that as long as God is watching, no other audience is required. Lent can be a time for keeping secrets with God.

Summary: These words, given through an ancient prophet, hit us as hard now as they hit their original audience. This becomes especially obvious when we consider that this witness speaks to the entire church, and not just to individuals. It is the church that is called to repent and return, in ways that have social and political implications as important now as ever.

Summary: A plague of locusts is seen by the prophet Joel as a sign of "the day of the LORD," a day that can be fearful for sinners. But the prophet, paradoxically, calls people "even now" to "return" to the Lord, who is merciful. The story of sinful humanity is one of people moving away from God, and of God continually calling people to return. And in Jesus, God acts decisively to bring us back.

Summary:
In the Sermon on the Mount, Jesus offers us grace and blessing, which comes before the call to deeper discipleship. God's grace goes to the core of our being, so that we act in obedience from the inside out, resulting in generous giving.

There are 8 sermons in your results.