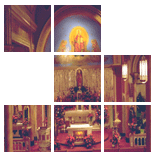 Enter Email:




Summary: Jesus' parable of the Last Judgment is illustrated with a story. A woman wakes up realizing that she's been told to crown the King but has no idea where to find him. In her search that day, she encounters a beggar and an old woman being thrown out on the street, and uses the crown she's been given to get food for one and housing for the other. At the end of the day she feels that she's failed in the task she was given, but is reminded of the King's words to those on his right in the text.

Summary: Today's text offers a glimpse of true discipleship. Serving God is about serving others. When we feed the hungry, we feed Christ. When we clothe the naked, we put a cloak on Christ. When we offer the thirsty a drink, we give Christ a drink. Our acts of mercy matter to God. Our acts of mercy are ways in which we can offer praise and thanksgiving to God. Furthermore, our acts of mercy are what set us apart as true disciples.

Summary: The final judgment will reveal the truth about God and the world for all to see. In Matthew's parable of the judgment, the ruler of creation is shown to be the one who identifies himself with those in need. That is a pattern shown to us in Christ. And the value of our lives will be judged by how faithful we have been to that pattern.

Summary: The king is the one asking the questions here, and the questions have very little to do with faith and a whole lot to do with works.

Summary: This passage is not a summons to get out there and "do good" — or else! It is a word-picture of what "salvation" looks like. It is not an instruction as to how we should earn salvation, but a demonstration of the results of a salvation already received in the heart.

Summary: What are you supposed to do if you are the king? By what standards will you be judged? In this story, Jesus shows us what the greatest concern of the King of Kings will be when he comes to judge the nations: that we are looking out for "the least of these." Kingship is caring. Everything else is just details.

Summary: What is striking about this tale of sheep and goats is that neither of them know Jesus. Neither sheep nor goats recognize him when he comes to them.

Summary:
This Parable of the Sheep and the Goats is seen by many — in church and out — as a veritable "clobber passage," demanding a commitment to one understanding or another of social justice. But this passage has as much — or more — to do with mercy as it does with justice.

There are 8 sermons in your results.