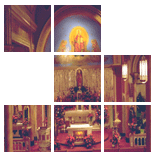 Enter Email:




Summary: The early Christians came up with new titles for Jesus because they needed ways to describe their ongoing experience of him. We may not use all of those titles today, but we need to experience him as the risen Lord and pledge our lives to him.

Summary: Jesus Christ is the truth. To accept him as Lord is to enter into his kingdom, allowing ourselves to "belong to the truth."

Summary: The trial of Jesus before Pilate was the trial of the first century. In the trial of our century, we still must decide for or against Jesus.

Summary: As Jesus stood before Pilate, he spoke of a kingdom that was not of this world. Jesus went on to relate his kingdom and his kingship to the truth and the results of that truth. How we acknowledge Christ as King is the all-important decision of our life.

Summary: For Jesus, truth is something that is felt, acted out and embraced in all of life. When we belong to his truth, we practice Christian hospitality.

Summary: Pilate asks Jesus, "Are you the King of the Jews?" It's a loaded question that doesn't address the fullness of Jesus' identity or his purpose. The question causes Jesus to inquire about Pilate and whether he is asking for himself or based on information he's heard. Identities are complex and not neatly or easily categorized. God calls us to be more than clichéd characteristics. We are greater than the sum of our parts.

Summary: For the writer of Revelation, there is One who is God today and was God yesterday and is the God who is coming — coming from the future. God's future, the resurrection of the dead on the last day, has already begun with the Easter resurrection of Jesus Christ. Those who know that Christ is king form a community to call all people into God's future.

There are 7 sermons in your results.