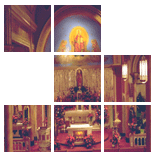 Enter Email:




Summary: Our prayers are our witness to something abstract and something concrete, which is to say that our prayers bear witness to the basic reality of our doctrine of the Trinity: that God is not only 'Wholly Other,' far removed from us, but at the same time here with us, among us, present in our very being. Moreover, our prayers from in the midst of suffering tell us that we cannot expect a life free of suffering, but that God is indeed with us even in our suffering.

Summary: It seems as if we are — to paraphrase a president of long ago — afraid of fear itself. We try to convince ourselves that we know no fear, that we can stand on our own feet and face down anything that comes at us. Writing to a church in Rome so long ago, the apostle Paul makes the point that, precisely because we can't stand on our own feet and are utterly dependent upon God, we can truly live without fear.

Summary: Our unchosenness results from the failure of wealth to provide meaningful security, by the failure of relationships to meet our heart's deepest cry, by the failure of power to destroy fear, by the failure of self-sufficiency to make us self-sufficient. In this state of unchosenness, we were found and chosen by God. At once the fearful "spirit of slavery" gave way to the welcoming "spirit of adoption." Now we had a family. Now we belonged.

Summary: Assurance, certainty of our salvation, is a gift given by God for a time to some who most need it, but the absence of assurance does not mean God has not accepted us. In fact, its absence may be a nudge from God that we need to move closer to him.

Summary: Being children of God, the creator of all things, is amazing! In our reading from Romans, Paul explains that this comes about by the leading of the Holy Spirit, through whom we are adopted by the Father as sisters and brothers of the Son of God, Jesus Christ. We are fellow heirs with Christ, the one in whom God's promises of new creation are fulfilled. All of this is the work of the Holy Trinity, Father, Son and Spirit.

Summary: Paul speaks about how Father, Son and Spirit act for us.

Summary: By grace we are all adopted into God's family.

There are 7 sermons in your results.