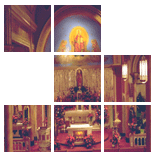 Enter Email:




Summary: Jesus taught that anything can be forgiven. There are times when we need to remember that, and seek it from God.

Summary: Jesus' popularity was at its peak on Palm Sunday and in the pits five days later. But his apparent has-been situation, his position of weakness, enables us to be saved by grace.

Summary: Looking at Jesus' suffering is a strength-sapping, draining experience, hardly what we normally hope for in worship. Yet sometimes we need to follow God's call downward, to places of less prestige, less reward, less pleasure. Only because Jesus emptied himself could God redeem the world through him. Our willingness to be emptied makes it possible for us to be channels for God's love and blessing to others.

Summary: Just as Jesus emptied himself of all heavenly prerogatives to become human, so, too, we should seek to give ourselves in service to others.

Summary: In the crucifixion, Jesus fulfilled his eternal calling, and by doing so, he revealed the fullness of the character of God.

There are 5 sermons in your results.