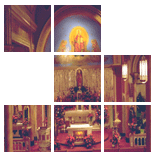 Enter Email:




Summary: The age of resurrection is not something that we are able to comprehend yet. It is so different from our life here, and so much better, that we can't even imagine what it will be like. It is reality. It is as true as anything in this world, but we don't yet have the ability to fathom what it is like. The new life that God has prepared for us beyond the grave is beyond what we can imagine. But when we receive it, it will be joy unspeakable.

Summary: Though the Sadducees of the scripture lesson today were seeking to trip up Jesus in their question about the Resurrection, Jesus looks beyond their trap to a fundamental human hope — that we be remembered and valued beyond the borders of this life. In his response to their question, Jesus speaks to our hope that God will not forget us and at last hold us forever in eternal life.

Summary: Christianity teaches not immortality of the soul but resurrection. God, who gave us life to begin with, gives it to us again, for all eternity.

Summary: A group of Sadducees challenge Jesus with a hypothetical scenario about marriage in the resurrection. Jesus explodes their question by challenging his hearers to evaluate their way of life in light of the resurrection and to recognize that they have misread the scriptures, which point to the reality of God's resurrection power.

Summary: Jesus is caught in the crossfire between two faith communities that look at the world in different ways: One believed our status is determined at birth; the other believed people made choices. That tension is not resolved even today. We live in the tension between a God totally in control and the authenticity of human choices. A little common sense will get us through most anything.

Summary: This passage, in which Jesus is challenged about belief in resurrection, is as much a passage about authority as it is about resurrection. Where is our ultimate authority as to what we shall believe about this life and the life to come? What has ultimate authority in the lives of those who claim and own faith in the God of Abraham, the God of Isaac, the God of Jacob — and the God represented by Jesus Christ?

Summary: Sadducees (who did not believe in the resurrection) confronted Jesus with a wildly unrealistic story about a woman who died childless and was widowed seven times over. They asked Jesus, "In the resurrection, therefore, whose wife will the woman be?" Jesus takes the moment to give us all good news about eternal life with the God not of the dead, but of the living.

Summary:
A group of Sadducees present Jesus with a challenge to the belief in a future resurrection. While Jesus' answer silences them, it doesn't actually prove that the dead will be raised. Later, when Jesus appeared alive to his disciples after his death on the cross, they began to proclaim the resurrection — not as a doctrine, but first of all, as Jesus himself. The risen Jesus Christ is the reality of resurrection, and all those in Christ will share it.

There are 8 sermons in your results.