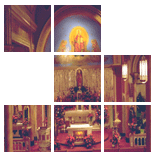 Enter Email:




Summary: "Can people change?" is an implicit question in the opening salvo of conflict between Jesus and the Pharisees found in Matthew 9:9-13. The Pharisees are dubious of Jesus' quest to call sinners and tax collectors into the reign of God. Jesus, who views us through a different set of lenses, is relentlessly hopeful that escape from the things that bind us and transformation into the joyful people of God is not only possible but probable. And Matthew and the crowd with whom he ate dinner that night are among the first to prove him right.

Summary: We call Jesus the Great Physician, because ― tirelessly ― he healed every imaginable human ailment, including some situations we sometimes fail to recognize as sicknesses. But there's one thing Jesus can't do. He can't heal those who won't admit that they're sick.

Summary: When serious troubles are still unresolved, our choice is between hoping too much or hoping too little. The story of Abraham and Sarah and Paul's words about hoping against hope suggest that we who trust God would do well to err on the side of excessive hope. And actually, that's a Gospel perspective.

There are 3 sermons in your results.