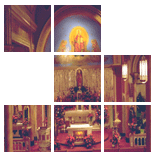 Enter Email:




Summary: The invitation of God is universal, daily and eternal. While we receive many calls from God, we can miss the critical opportunities. In the parable of the wedding invitation, Jesus challenges us to be open to his call each day of our lives

Summary: Those who say it's inconvenient to attend God's party really just don't want to be there. But all who go should be ready to redress when they arrive, for God will have the garments of righteousness waiting.

Summary: When we turn down the divine invitation into the kingdom of God, we are actually snubbing God. And if we do accept the invitation, we need to surrender our filthy clothes of sin and allow God to dress us in the garments of righteousness.

Summary: Once we decide to follow Jesus, we need to discard the garments of sin and put on the clothing of righteousness.

Summary: This harsh-sounding parable reminds us that accepting the invitation to the banquet is not enough. We should begin to prepare ourselves for the future kingdom of heaven by showing love, compassion and courage now.

Summary: God has invited us all to be guests at his table. Some will reject his invitation.

There are 6 sermons in your results.