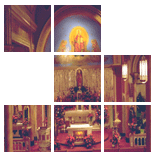 Enter Email:




Summary: The work of Christians is to be focused on building up, not tearing down. It is to reach out a helping hand, not to point fingers. Christ has shown us what to do, and has illustrated it by his life of love and healing. That is where we are called to walk.

Summary: Scheduling is tricky. Whether we're on the inviting or the attending side of things, and whether we have responded "yes" or "no," circumstances may change whether we "show up." Jesus takes this common experience and helps us notice the ways we do this with God as well. Surprisingly, the people we least expect are the ones who tend to show up for God, while the highly "religious" often don't. What about us?

Summary: God wants us to work on the intentions of our heart, but as this parable shows us, the right action or the right deed is good enough for a start. Our intentions can catch up as we allow the grace of God to permeate our lives along the way.

Summary: Christ's pattern of self-limitation tells us something about the way God acts in the world generally. It also gives guidance for our lives as Christians as it answers the question "What would Jesus do?"

Summary: The life of faith is not simply about being able to mouth the right words. God is looking for those who are willing to get their hands dirty for the sake of his kingdom.

Summary: God calls us to serve. God entrusts us with the responsibility to work in God's vineyard. If God does not doubt our ability, who are we to argue? We are called to say yes to God and offer our best effort.

There are 6 sermons in your results.