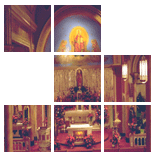 Enter Email:




Summary: Our text contrasts a false self-seeking "wisdom" with "wisdom from above" that leads to good relationships. The whole letter of James focuses on right behavior, and says little about Jesus by name. But in light of traditions about wisdom in the Hebrew scriptures that Christians used to speak about Jesus, we can see the letter's encouragement to live with wisdom as another way of speaking about following Jesus.

Summary: James warns us to avoid being envious. That's not because envy isn't nice; it's because envy is deadly to our souls.

Summary: In Mark's gospel, Jesus' disciples never seem to grasp who he is or what he does or says. They're puzzled by his actions and words. In today's reading, they don't understand when he speaks about his coming death and instead start arguing about which of them is most important. In spite of the benefit of hindsight, we're often not much better. But our salvation is in the greatness of Jesus, not of ourselves.

Summary: People maneuver and struggle and sometimes fight to be "first" in this world. They have to live with the outcome which often is tragic. Christ taught us that if we want to be among the "first" in his eyes then we must exercise humility and service.

Summary: To increase your "kingdom-value," you must humble yourself and become a servant of all. The foundational humbling act is to acknowledge your own sin, and to ask God for mercy. Humble service may mean reaching out to people outside of our comfort zone -- particularly children, who can be brutally honest and wildly unpredictable.

Summary: The first must be last. The greatest must be a servant. The one who welcomes a child welcomes Jesus. In the kingdom of God, normal expectations are flipped on their heads.

Summary: When we serve others by playing the role of a host, we come face-to-face with holiness. Our welcoming of children, in particular, is a welcoming of Jesus.

There are 7 sermons in your results.