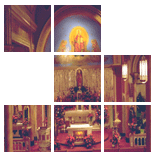 Enter Email:




Summary: Darkness within our minds and spirits is not what God wills for us. Those who call upon God and allow him to rule their lives receive the light that dispels the darkness within.

Summary: Things and people who are lost have some value in and of themselves, but greater value because of the one to whom to they belong. Today's Gospel reminds us of the value we have in God's eyes, even when we are have turned from him. We are also challenged not to let others be lost to us.

Summary: The Gospel challenges us with its radical offer of mercy and forgiveness.

Summary: The church is a community of the lost who have been found. We are called in turn to be the messengers of good news to those who are still lost.

Summary: God actively seeks us, and we cannot know full peace and joy until we allow ourselves to be apprehended by him.

Summary: On the anniversary of 9/11, we can remember the heroism of that tragic day, and join in future efforts to seek and save the lost.

Summary: It is Christ-like not to blame or discard others for the ways they have coped with the hard hand they've been dealt.

Summary:
The stories of the Lost Sheep and the Lost Coin represent two-thirds of a trilogy of parables completed by the parable of the Prodigal Son. The first and third parables tell us something about God, to be sure, but the middle parable — involving women, a lost coin and living successfully above the poverty line — is set in our world. The Real World.

There are 8 sermons in your results.