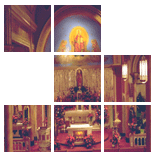 Enter Email:




Summary: Easter morning, with its stories of the followers of Jesus running and discovering the empty tomb, is a time for grappling with the reality of death and the even greater reality of resurrection. When we truly allow the power of God's work in Jesus' resurrection to come into our lives, we also can move beyond the hard work of coping with the death of loved ones and all the attendant feelings and live in the new life that Jesus offers.

Summary: Unlike the first disciples, we cannot be eyewitnesses to the resurrected Christ, but by experiencing his love, we can say, "I witness to this truth I have come to know, this love that has filled me from within, this risen Lord with whom I am in relationship!"

Summary: The Resurrection is the central miracle of the New Testament. Its reality validates Jesus' identity as the Messiah. It is also the most difficult miracle for us to embrace and understand.

Summary: A little boy poses an obvious but sometimes neglected question: Who is it that was raised from the dead on Easter? It's a question about God's purpose for creation, and Peter points to that purpose when he tells his audience about Jesus' life and ministry. Reflection on the character of the risen One helps us to see God's goal for history and our role of in the attainment of that goal, and can also give us confidence in the truth of the strange but joyous Easter message.

Summary: By trusting in the Risen Jesus, anyone can become a friend of God, one of God's "peeps."

Summary: The gospel message is a powerful story of triumph over death, but it comes with some hefty responsibilities and consequences. Although the life-changing salvation potential of the resurrection story multiplies with each retelling, it is also a dangerous story to tell. This is true especially for the women of Mark's gospel, who neglect to tell the disciples what they witnessed at the empty tomb because they are filled with amazement and fear.

Summary: In this passage we see how people react to the Resurrection, to the knowledge that it's true, it really happened, Jesus really is risen … risen indeed! And it is not the reaction that we ourselves have come to take for granted.

There are 7 sermons in your results.