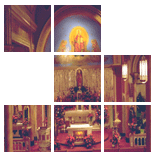 Enter Email:




Summary: Our attitudes and intentions determine whether our actions are sins or not.

Summary: The Michael Jordan phenomenon has spawned the marketing slogan, "Be like Mike." Yet, being like someone else is often an invitation to engage in mimicry rather than being inspired toward maturity. Jesus warns his hearers not to be enamored by a superficial awe of the Mikes of this world, but to develop lives of authentic spirituality grounded in true being.

Summary: We are in danger of hypocrisy only if we play to the wrong audience — only if we are seeking to impress people, rather than seeking to please God.

Summary: If you find yourself driving in the wrong direction, you've got to turn around to get where you want to be. That's also true spiritually, so the prophet Joel calls us at the beginning of Lent to "return," to come back to God. We are led on that journey back to God by Jesus. Receiving him in the Word, prayer, alms and fasting are parts of Lent that help us to return and to stay close to God.

Summary: Our assembling this day gives us an opportunity to consider and repent of our sins — and be forgiven.

Summary: As we observe Ash Wednesday and begin the season of Lent, we often ask, "What am I going to give up for Lent?" We do not ask, "What do I want for Lent?" Yet we often engage in acts of self-denial with the hope of receiving something in return. Jesus promises that God will reward us in secret.

Summary: Ash Wednesday is a day to consider the finitude of our lives, but also to consider how we may wish to conduct ourselves for the future. As a moment to pause and reflect on our lives, Ash Wednesday is primarily about living in the present moment, not chiefly about concern for the future or about anxiety over death. There is power in keeping ourselves oriented toward the present, and something innately hopeful about having an opportunity to adjust our lives.

There are 7 sermons in your results.