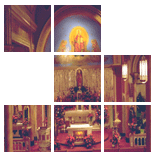 Enter Email:




Summary: Expectation is a major theme of Advent. Because of Jesus, Christians expect peace with God, healing of the soul, to never walk alone, for God to be closer to us than our breath itself. We expect Christ to return and bring the kingdom of God in all its fullness. We expect eternal life. None of that is expecting too much or too little, for these things are backed up by the promises of God.

Summary: Justice requires confession, forgiveness and a healing of the past. Jeremiah promised that God was working for justice. Today, we can see even small signs of justice as a shoot coming up from the ground, giving us hope for full justice in God's time. We should commit ourselves to our own work of shining the light on injustice, of confessing, of forgiveness, of healing the past as we look toward God's future.

Summary: Advent is the season of waiting. We need to be ready for Jesus when he comes.

Summary: Even though the church celebrates Advent as a time of hope and anticipation, we realize that the world does not change much. Luke teaches us that God will act in all creation, and the ministry of the church is to bear witness to God's coming redemption of the creation.

Summary: If we can get Advent waiting right, the joy of Christmas will surely follow.

Summary: Many self-proclaimed prophets have predicted the end of the world and the date of the Second Coming. But that's a fool's game. The job of Christians is to watch with Christ and respond to the wounds and needs of people, trusting that we can leave the ultimate fate of the world to our loving God.

There are 6 sermons in your results.