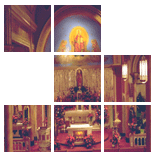 Enter Email:




Summary: For followers of Jesus, interruptions can be opportunities to serve God. One sign of God's presence in our lives is that we are led where we did not intend to go.

Summary: Giving, at its heart, is more a spiritual matter than a budget matter. It is never a quid pro quo. It is neither a payment for blessings received nor a bribe for blessings hoped for. But it does have to do with gratitude for the faith handed down, for salvation given, for Gospel joy, for confidence that God's way is best. It can't be paid back, and isn't expected to be, but it can and should be paid forward.

Summary: Peter and Paul are proclaimed to be saints but they were not angels. Rather than men to be worshiped, they are models to be followed. They exemplify what true believers are called to be. Speaking out for gospel values carries a cost, as both Peter and Paul discovered. However, the same faith that God would be with them was also a faith that enabled them to walk the entire mile. We are called to nothing less.

Summary: Jesus heals more than mere physical ailments, reaching out also to heal social isolation; he calls us to do the same in our interactions with others.

Summary: This event in the ministry of our Lord comes to us as a drama featuring Jesus, two main groups and some other players. By way of Jesus' interaction with these people, we see how he ministers both to the church and to those outside the church.

Summary: We all have secrets. The good news is that Jesus makes space for every truth; Jesus stops and listens and allows light to pour over the deepest, darkest truth. "Go in peace," Jesus says. That's the gospel way.

Summary: In this account of Jesus healing two people, we see two common threads: taking Jesus at his word and admitting that one's need is greater than one's resources. Regardless of how far medicine and science and knowledge advance, we should never keep Jesus out of the picture.

There are 7 sermons in your results.