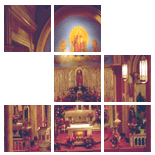 Enter Email:



Summary: Forgiveness, one of the most basic yet difficult human virtues, often requires us to go beyond our simple human nature. Contemporary society almost mandates that we react in certain ways and differentiate between people in how they are treated. Some people are in and others are out. Jesus, in his Sermon on the Plain and the actions of King David demonstrate clearly our need to rise above our natural inclinations and reach the higher realm that Christ demonstrated in his life on earth. Today's celebration and readings challenge us in a similar way.

Summary: Often we interpret our experiences in terms of deserving/not deserving. When Jesus tells us that we are to be merciful as God is merciful, his challenge is difficult to reconcile with what we think people deserve or don't deserve. By reflecting on the expression "a free ride" and on the free rides we enjoy, we might get a better appreciation of why Jesus' call to be merciful as God is merciful is truly liberating.

There are 2 sermons in your results.