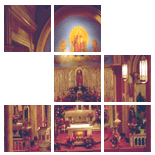 Enter Email:



Summary: The decision to follow Jesus is not an illogical choice. Faith requires us to go beyond reason, but reason can help us to get to where the leap of faith is possible.

Summary: For those who are sighted, blindness from birth can hardly be imagined. By the same token, it must be difficult for one who has been blind from birth to imagine what sight would be like. But blindness comes in more than one color. There are those who know they are blind and who seek help wherever it might be found. There are also those who are blind to truth and they do not know that they are blind. Only those who can admit to their blindness are in a position to do much about it.

Summary: Our experience of grace and love enables us to identify with the blind man who finds healing. Theology concerns the attempt to understand the experience of grace. In coming to a deeper understanding of God's grace, admitting the limits of our knowledge enables us to probe deeply what we believe about the identity of Jesus for today.

Summary: We read the story of the blind man's healing with our minds already made up. We believe that Jesus healed a man by the power of God. The Pharisees already had their minds made up that Jesus was evil. People today still blindly form opinions and don't want to be confused with facts about God. Since we can't convince them with facts, we have to love them with acts.

There are 4 sermons in your results.