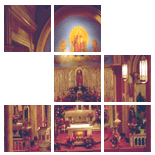 Enter Email:



Summary: Christianity is in danger of being marginalized in a land that has been shaped in so many ways by its generations of blessed influence. We need to speak graciously and confidently about who we are and the values we cherish.

Summary: Jesus' message of love was manifest through a welcoming attitude toward all. Christ's attitude of inclusivity is one we must model. Too often, we are content to live as we have always lived. We will not bid welcome to new people, ideas or possibilities. Our lack of welcome prevents us from growing. Jesus challenges us to welcome others and to experience through our attitude and actions the reward of eternal life.

Summary: This passage is about "welcoming" and "being welcome." Its overall message is that we need not worry about whether or not we are being appropriately "welcoming." There already is a welcome out there waiting for us; we have to go out in the name of Christ and enter into that welcome, claim it and become a part of it.

Summary: It may not appear so on the surface, but those who travel with Jesus are traveling in fast company!

Summary: God knows when the sparrow falls. The sparrow still falls, but that is neither the end of the story nor the whole story, for as many sufferers have discovered, in fellowship with Christ, who also suffered, the complexion of what is happening changes in ways that make possible comfort, hope and even joy.

Summary: Jesus demonstrates his desire to channel normal currents of human ambition and honor-seeking into vibrant opportunities to fulfill Christian mission and build Christian community.

Summary: Jesus never led anyone to believe that discipleship and following him would be an easy thing. In fact, just the opposite is true. While Jesus painted a true picture of what might be ahead for his followers (including us), he also gave the assurance of his love and help in this life and for eternity.

Summary: There is a price to pay for voicing your beliefs. That price might include forms of persecution, separation from loved ones, and even physical harm. Most certainly, it will cause division in your life. Jesus did not offer us a cost-free existence.

There are 8 sermons in your results.