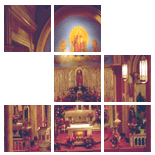 Enter Email:



Summary: Today's story of God and Abram suggests that God acts like the tooth fairy in giving a gift while the recipient is sound asleep. That's a sign that God's saving work is entirely by grace. Abram is counted as righteous because he trusts God's promise that he will have many descendants. Finally, in the biblical story, God's promises will be fulfilled in the descendant of Abram named Jesus, and those who trust God's promise in him are accounted righteous.

Summary: Free choice gives each person the opportunity to choose God or the world, in many ways each and every day. The world is very enticing and society tells us we must participate fully and succeed. Worldly success brings accolades today, but the only truly important success for the Christian is being with God. Thus, we must choose God over the world as St. Paul suggests in his letter to the Philippians.

Summary: Although we typically learn faith by imitation, the One we are ultimately imitating is Jesus.

Summary: Depression, while serious, is not to be feared. By God's grace and with the help of modern medicine, it can be healed.

Summary: If we hope only for earthly things, that's all we can expect to get.

There are 5 sermons in your results.