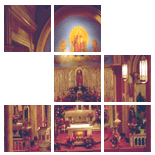 Enter Email:



Summary: Jesus calls us to experiences of being cleansed and of serving others. We resist both experiences. If we open ourselves to this call from Jesus, we will discover the joy of forgiveness and the meaning of service.

Summary: God chose to save Israel. God chooses to save us. We are but beggars, deserving a judgment of condemnation, standing before a gracious God who wants to give us eternal life. The Israelites who followed God's instructions were saved by the sign of the blood of a lamb. In the Eucharist, the followers of Christ acknowledge God's saving grace through the blood of the Lamb of God.

Summary: Celebration of Holy Communion is a vital part of Christianity — and thus a vital part of every Christian's faith walk. From the lips of Jesus to the writings of Paul to modern-day practices, Christians are given the mandate to "do this and remember ...." The command implies that as we "do this," there are other things we should not do.

Summary: We are likely to come to the Maundy Thursday service not thinking of what the name of the occasion means -- and thus, not beginning to fulfill its potential in our own lives, and in our congregations.

Summary: Just as Jesus washed the feet of the disciples and prepared them for the journey, we are called to show compassion and love to others on the journey.

There are 5 sermons in your results.