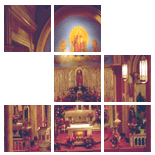 Enter Email:


Summary: Even though we no longer experience the breath-taking excitement of Peter and the Beloved Disciple at the news of the empty tomb, the resurrection gives us hope, feeds our faith and unifies us as the universal church.

Summary: Easter is not a celebration of a past event; it is a fact of today.

Summary: We think of Easter as a miracle, as of course we should. But as the Bible tells the story, Easter was inevitable. God said it had to be so.

Summary: The death and resurrection of Jesus are the essential elements of the Gospel message that have the power to not only save us, but also create a community of hope.

Summary: The empty tomb initially created a crisis for the first witnesses. They were surprised that Jesus was not there. Life offers us many examples of these sorts of sad surprises, and we must find ways to deal with them.

There are 5 sermons in your results.